Directory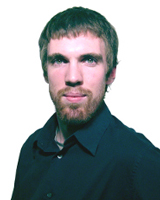 Mr. Benjamin Francis Garner
University Organist and Instructor of Piano and Organ
Location:

Armstrong Hall

,

265
Phone:
757-727-5702
E-mail:
benjamin.garner@hamptonu.edu
Expertise:
Piano, Organ, Recording Technology, Accompanying, Collaboration
Benjamin Garner was born in Newport News, Virginia where he began piano lessons at age five. He continued lessons privately until he enrolled at Virginia Commonwealth University (VCU) where he studied music performance from 2001-2007. During his time at VCU he gave performances in groups ranging from classical trios, string quartets, orchestras, and vocal choirs to experimental music and fusion bands. Benjamin took a break from his studies and toured the east coast with a rock/jazz fusion band from 2004 to 2007. He then returned to VCU in 2007 to finish his Bachelor of Music (B.M.) degree with a concentration in performance.
From there, Benjamin continued his studies in Winston-Salem, NC while attending University of North Carolina School of the Arts. Aided by an assistant-ship in recording, Benjamin completed his Master of Music (M.M.) degree in Music Performance with a concentration in Piano Performance in 2010. While in Winston-Salem, Benjamin performed solo and in ensembles spanning Music, Dance, Theater, and Film.
The Lincoln Center Institute, Kenan Teaching Fellowship followed completion of his Master's Degree, and launched Benjamin into New York City to work alongside extraordinary teachers and performers. Benjamin quickly developed connections at numerous schools and taught music composition and instrument skills on Piano, Voice, Violin, Viola, Cello, Mandolin, Guitar, Percussion and more.
A technology enthusiast as well, Benjamin repairs and restores vintage electronic instruments and computers. He has experience recording live sound in many enviroments. He has studied sound mixing and producing as well as worked regularly in a jointly owned recording studio. Benjamin has since continued his fascination with recording technologies by starting and maintaining his own recording business, BG Mobile Recording. Benjamin has recorded sound for Television (PBS), ADR, Audition DVDs, full band albums, solo artist albums, and singles. Benjamin has also worked as Sound Designer for a variety of shows and venues in New York, North Carolina, and Virginia.
In addition to playing the piano and organ, Benjamin sings, plays many string instruments, percussion, teaches music privately, composes and arranges music and designs sound for various ensembles and configurations. Benjamin has served as substitute director, as well as organist and pianist in numerous churches in Virginia, North Carolina, and New York for the last 18 years. Recently, Benjamin performed on synthesizer accompanying the JSMT Dance Project at the Edinburgh Festival Fringe, in Edinburgh, Scotland.
Currently, Benjamin is University Organist and Instructor of Piano and Organ at Hampton University. He is an active member and substitute for the Tidewater Chapter of the American Guild of Organists (AGO).