Directory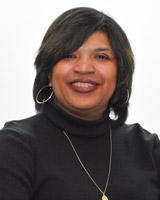 Dr. Zina T. Mcgee
Endowed University Professor
Location:

Martin Luther King, Jr. Hall

,

202
Phone:
757-728-6913
E-mail:
zina.mcgee@hamptonu.edu
Expertise:
Teaching Areas: Statistics,Methods,Criminology,Violence Against Women,Deviance,Juvenile Delinquency,Victimology/Research Areas: Gun Violence,Victimization and Coping among Urban Youth, Patterns of Coping among Women in Prison, Behavioral and Emotional Outcomes among Children of Incarcerated Mothers
Dr. Zina T. McGee, Endowed University Professor of Sociology, received the B.A. and M. A. in Sociology from the University of New Orleans and the Ph.D. in Sociology from Tulane University. She teaches research methods, statistics, and criminology in the Department of Sociology at Hampton University. Her areas of specialization include juvenile delinquency, violent victimization among minority youth, and patterns of coping among women in prison. She is the recipient of a faculty research grant from the National Institute of Mental Health, which examines patterns of coping, victimization and offending among minority youth and the recipient of a Hampton University faculty development award to investigate patterns of drug addiction among minority women in prison. To date, survey data have been collected on 1,500 youth in the Hampton Roads area and 500 women in prisons and jails in four states including Virginia, Maryland, District of Columbia and New York. Her recent publications include "Exposure to Violence and Problem Behavior among Urban Adolescents: Assessing Risk Factors and Coping Strategies" and "Assessing Risk, Protective Factors and Symptomatology among African America Youth." She has also published "Examining Risk Factors for Recidivism and Disparities in Treatment among Female Probationers" and "Examining the Relationship between Children's Behavioral Outcomes and Life Events among Incarcerated Mothers" with Hampton University colleagues and undergraduate students as co-authors. She is a Career Development Fellow at the National Consortium on Violence Research at Carnegie Mellon University and is currently serving on the Youth Safety Commission in Richmond and the Domestic Violence Fatality Review Team in the City of Hampton. Dr. McGee is also a consultant for the GPS Youth Arts and Mentoring, Inc., and the Violence Inoculation Project/Protect Our Kids Initiative in the City of Hampton, which provides services to families affected by domestic violence incidents. She is also co-investigator of a technology grant funded by the Mellon Foundation to examine cost-effective uses of computer instruction in statistics, and she is a Faculty Research Associate in the Center for Teaching Excellence at Hampton University. She currently serves on the Institutional Review Board at Hampton University, and she has served as Chairperson of the School of Liberal Arts Tenure and Promotion at Hampton University. She is a member of the Off-Site Review Committee for the reaffirmation of accreditation with the Commission on Colleges, and was elected as Faculty Trustee. She is the Faculty Advisor for the Golden Key International Honour Society and Alpha Phi Sigma, the National Criminal Justice Honor Society, at Hampton University, and the recipient of the Edward L. Hamm Distinguished Teaching Award, the Provost Teaching Innovation Award and the Honors Council Advisor of the Year Award. She has served as Chairperson of the Minorities and Women Section of the Academy of Criminal Justice Sciences and Chairperson of the Research Committee within the Division of People of Color and Crime of the American Society of Criminology. She has recently been named editor of the Journal of Contemporary Criminal Justice's special issue on racial profiling and police brutality, associate editor of Journal of Ethnography and Qualitative Research, and serves on the Review Board of Scientific Journals International and Journal of Ethnicity in Criminal Justice. In 2012 she was named recipient of the State Council for Higher Education in Virginia (SCHEV) Outstanding Faculty Award (OFA). In 2013 she was named one of the Top 26 Women Professors in Virginia, and received the President's Ambassador of Excellence Award in 2014. She is Co-Investigator on two federally funded grants with National Institutes of Health (NIH), and received the Best Research Mentorship Site Award for her research training of high school students at the Governor's School for Science and Technology. She has been elected as vice chair of the Hampton University Research Council. In 2016, she received the Academic Excellence Faculty Award and recently authored her first book, "Silenced Voices: Readings in Violence and Victimization."