Directory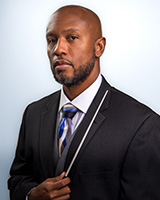 Dr. Thomas L. Jones Jr.
Director of University Bands
Location:

Convocation Center

,

Entrance C, 2nd Floor
Phone:
757-728-6876
E-mail:
thomas.jones@hamptonu.edu
Expertise:
Music, Education, Leadership, Physical Fitness, Military
Dr. Jones is from Brooklyn, New York and is a graduate of Hampton University, where he was a member of the Trombone section, the Trumpet section, and also served as Drum Major for The Hampton University Marching Force. He also received the Bachelor of Music degree from the University of North Carolina at Greensboro, Bachelor of Science in Psychology from Pennsylvania State University, Master of Arts in Organizational Leadership from Gonzaga University, Specialist in Education degree in Educational Leadership from Liberty University, and Doctor of Philosophy in Leadership Studies from North Carolina A&T State University. Dr. Jones previously served as the music arranger and drill writer for the Brooklyn "Steppers" Marching Band, as well as the Chief Music Arranger, drill writer, Media Team Coordinator, and Music Instructor for the NC A&T "Blue & Gold Marching Machine." Dr. Jones is a Charter member of the Pi Beta chapter of Phi Mu Alpha, Sinfonia Fraternity of America, Inc., and an alumnus of the Gamma Epsilon chapter of the Omega Psi Phi Fraternity, Inc. In addition to his musical duties, Dr. Jones is also a member of the United States Army Reserve, having served as a Psychological Operations Team Sergeant and a former Drill Sergeant, with combat deployments to Iraq and Afghanistan.