Directory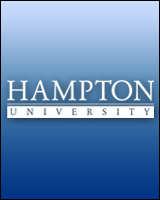 Ms. Sade A. Kirby
Coordinator of Academic Support for Athletics
Location:

Holland Hall

,

189
Phone:
757-727-5856
E-mail:
sade.kirby@hamptonu.edu
Expertise:
Athletic Academic Advising, Athletic Compliance
Sade' Kirby is entering her first year as Coordinator of Athletic Academic Support at Hampton University.
Ms. Kirby's responsibilities include monitoring the academic progress of student-athletes, coordinating study hall and tutoring programs, as well as advising.
Previously, Ms. Kirby served as an intern with the Mid-Eastern Athletic Conference (MEAC) on two separate occasions. In her first tenure at the MEAC, Ms. Kirby worked under the Director of Marketing and was recruited to work in the Office of Compliance where she assisted in the coordination of the annual conference Senior Woman Administrators (SWA) Professional Development Workshop. During her second stint in the MEAC, she assisted the Assistant Commissioner for Administration and Compliance and the Assistant Director of Championships and Compliance in the day to day activities of the conference compliance office. Ms. Kirby also worked game operations for both the 2008 and 2011 MEAC Men's and Women's Basketball Tournaments. Before returning to the MEAC for her final internship, Ms. Kirby served as the Assistant to the Associate Athletic Director/SWA at Howard University.
A native of Alexandria, VA, Ms. Kirby is no stranger to our "Home by the Sea", earning her B.S. in Sport Management from Hampton in 2008. She has also earned a M.A. Ed. with a concentration in Sports Administration in 2011 from Wayne State University, in Detroit, MI.