Directory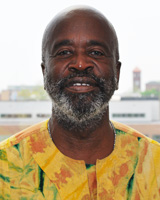 Mr. Robert C. Watson
Assistant Professor and Assistant to the Dean
Location:

Martin Luther King, Jr. Hall

,

214
Phone:
757-727-5296
E-mail:
robert.watson@hamptonu.edu
Expertise:
African American History, Caribbean History, Reconstruction, West African History
A Mississippi native, Professor Watson earned undergraduate degrees in Chemistry and History from Tougaloo College. He earned his master's degree from Washington University in St. Louis where he completed all the hours toward the Ph.D. He has taught at the university level for over 32 years and was a museum director for eight years. Professor Watson has served on the boards of numerous museum and historic home sites. He was a member of the Student Non-Violent Coordinating Committee (SNCC) as a student, and he is a firm believer that students should be social activists.