Directory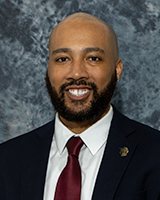 Dr. Richard Davis Dixon
Assistant Professor
Location:

Martin Luther King, Jr. Hall

,

234
Phone:
757-728-6553
E-mail:
richard.dixon@hamptonu.edu
Expertise:
Black Psychology, Culturally Relevant Learning, Education Psychology, Developmental Psychology
Dr. R. Davis Dixon is an assistant professor of developmental psychology. Currently Dr. Dixon conducts research that explores how to create safe and welcoming school environments by affirming the identity and humanity of students of color. Under this umbrella, Dr. Dixon is interested in validating a cultural Identity scale for college students; predicting student academic outcomes as a function of their perceptions of mattering, belonging, and trust; and exploring the match/mismatch between student and teacher perceptions of school climate and the subsequent academic outcomes that stem from these perceptions.
Previously Dr. Dixon was a senior associate for P-12 research at the Education Trust, a nonprofit, education civil rights organization. In this role, Dr. Dixon conducted primary and secondary research to inform discussion and debate among education decision-makers at the national, state, and local levels, ensuring that Ed Trust's practice and policy work is driven by the most current education research. Prior to this role, Dr. Dixon worked as a research associate at Howard University's Capstone Institute, a research, development, and technical assistance center that prioritizes urban and ethnically diverse schools, districts, and communities. There, he collected and analyzed data surrounding teaching effectiveness, professional development interventions for teachers, and math interventions for students deemed to be at risk. Dr. Dixon has presented at conferences across the nation on topics regarding minority and low-income student achievement. He has also published research findings on cultural identity for African-American students at an HBCU and issues of mattering and belonging for elementary students. Dr. Dixon completed his master's and doctoral work in developmental psychology at Howard University and holds a bachelor's in psychology from North Carolina Central University.