Directory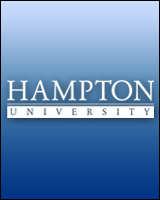 Mr. Mikael L. Davis
Director
Location:

Armstrong-Slater

,

101
Phone:
757-727-5705
E-mail:
mikael.davis@hamptonu.edu
Expertise:
Instructional Leadership, Educational Administration and Supervision, Effective Classroom Management, Brain-based Differentiated Instruction.
I am an experienced administrator with extensive experience optimizing student achievement via aggressive use of data and the development of targeted remediation programs. As Founder and Chief Academic Officer of TeachersBox LLC, an educational consulting practice that has improved standardized test scores, provided university readiness services, and earned nearly $5 Million in merit based aid for high school and undergraduate students, I've spearheaded SAT Prep, Financial Literacy, and guidance services for students and their parents to close the achievement gap, ease the college transition, and improve high school and college graduation rates. In addition to my role as the Director of Student Support Services at Hampton University, I also serve on the Board of Directors for Summit Christian Academy, providing oversight for the K-12 classical Christian school, to include budget analysis and forecasting, strategic planning and development, instructional leadership and training.