Directory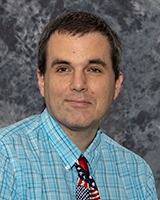 Dr. Michael Davis
Assistant Professor of History
Location:

Martin Luther King, Jr. Hall

,

209
Phone:
757-727-5349
E-mail:
michael.davis@hamptonu.edu
Dr. Mike Davis holds a bachelor's degree in History from Northern Michigan University, a master's degree in Social Sciences from the University of Chicago, and a doctorate in History from the University of Cincinnati. He joined the Hampton University faculty in the Fall of 2018
Dr. Davis specializes in American religious, political, and cultural history. Most recently, he is the author of "The Pure Lava of Anti-Masonry," an article published in the Florida Conference of Historians Annals, and numerous other articles and conference papers. He is currently working on the manuscript for his first book: Practical Lives: A Religious Biography of the Wright Brothers. For "Pure Lava," Dr. Davis received the Thomas Campbell Award from the Florida Conference of Historians in 2017.
At Hampton, Dr. Davis teaches World and American history surveys, upper-level courses in American diplomatic and intellectual history, as well as topics courses in American history and culture.