Directory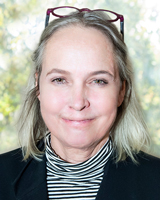 Ms. Mason Andrews
Associate Professor
Location:
Bemis Lab
Phone:
757-727-5440
E-mail:
mason.andrews@hamptonu.edu
M.Arch., Princeton University
B.A., University of Virginia
Capping a wide-ranging career in architectural and furniture design, real estate development, writing, and community service, Andrews' current teaching and research interests are several: She seeks to foster an appreciation of design opportunities in the inevitable constraints of contingency and the code, client and community interests inherent in architecture; She hopes to establish a program in Hampton Roads using emerging GIS interfaces for verbal and visual records of buildings in historic urban neighborhoods as an outgrowth of a public education program and as an armature for documenting social history and community conversation.
Education and Degrees
Master's of Architecture, Princeton University, 1982
University Fellowship, 1978-1981
Howard Crosby Butler Fellowship for Travel and Study Abroad, 1980
Thesis Prize, 1982
Bachelor of Arts (English Language & Literature; History), University of Virginia, 1976 4.0 graduating average
Teaching Experience
2009-present Hampton University
Publications, selected
Steinfeld, Edward, and Jonathan White. Inclusive Housing: A Pattern Book. New York: W. W. Norton & Co. 2010. (design work used as prototype)
Institute for Classical Architecture, A Pattern Book for Neighborly Houses (New York) 2007 (design work featured)
Gartner, M.C., "Classicism for Humanity," Period Homes Jan uary 2006. Norfolk Redevelopment and Housing Authority, Ocean View Design Standards and Architectural Patterns (Norfolk) 2003. Author, Definitions and Descriptions
Stern, R.A.M., Pride of Place: Building the American Dream Houghton Mifflin (New York): 1987. Technical Revisions Editor
Andrews, M. Frank Gehry, Buildings and Projects, Rizzolli (New York): 1985
Andrews, M. Aldo Rossi: Buildings and Projects. Rizzolli (NewYork), 1985
Gutman, R., Design of American Housing: A Reappraisal of the Architect's Role. Center for Cultural Resources (New York): 1985. (Research Assistant for generating National Endowment for the Humanities study)
Andrews, M. Swid Powell: Objects by Architects (New York): 1983
Andrews, M. Lafayette Square: The Past, Presevation and the Presidency. Smithsonian Institution (Washington, D.C.) 1983
Work cited or presented in Home Magazine, The New York Times Book Review, Metropolis, Period Home, Virginia Business, the Daily Press, Inside Business, The Virginian Pilot, the Richmond Times-Dispatch, and Portfolio. In addition occasional pieces have been published in The Daily Press and Portfolio
Awards, selected
National Endowment for the Arts grant recipient as selected designer for Institute for Classical Architecture and Habitat for Humanity, retrofitting low cost housing in urban historic districts, 2005
Tidewater Association of Homebuilder's Homearama design award for garden at "Lightkeepers" House" 2006
Home Magazine's National Association of Homebuilders' Demonstration Kitchen, 1986
ColorCore Innovations in New Material Award 1985
ANDY Award (for Objects by Architects) 1983
Princeton University School of Architecture, Thesis Prize, 1982
Howard Crosby Butler Fellowship, Princeton University, 1980
Princeton University Fellowships, 1978, 1979, 1980, 1981
Service, selected
Chair, City of Norfolk's Design Review Committee; Member since 2003
Chair, Hampton Roads Chamber of Commerce, Norfolk Division, Board member since 2004
Director, United Way Foundation, Five Points Community Farm Market, Marilyn and Ray Gindroz Foundation, current President, Ghent Neighborhood League 2005-7, Board Member 2003-2008
Director: d'Art Center, Norfolk Forum, 2000-2006
Guest Lecturer, University of Virginia School of Architecture "Frank Gehry." Moderator, Urban Design Symposium, New York Institute of Tehcnology, 1987
Founding Board Member, Society of Young Architects, New York, 1984-1990
Professional Experience, selected:
1990-2009 Archipelago, Virginia Solo general design consultancy. Commercial and residential work in Middlesex, Mathews and Northumberland Counties, Virginia Beach and Norfolk. Representative projects: design of houses on contiguous lot clusters on East Ocean View Avenue at Sturgis and at 18th Bay Streets.
1989-present Sweetwater Corporation President, company formed to restore 19th century country store and develop surrounding acreage into mixed-use traditional village.
2004-2007 Burkhart Thomas Reed Professional association with Archipelago. Business development and design work included for city block mixed-use project, single-family subdivision, Norfolk; 4 story condominium, Va. Beach
1988-2006 Sturgeon Creek Development Corporation President, company formed to develop a waterfront residential project, now complete
1983-1990 Archipelago, New York, NY Founding partner, architectural and interior design firm. Work in 12 states included single and multiple family housing, retail and commercial work, new construction and rehabilitation. Selected for design of model project for National Association of Home Builders; designer of 57 franchised retail outlets throughout Northeast; single family houses built in California, New York, New Jersey, Massachusetts and Virginia; furniture and graphic design
1982-1984 John Carl Warneke, Architects and Planners, New York, NY Member design, planning and code-drafting team for Yanbu, Saudi Arabia, a new city