Directory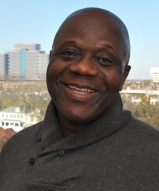 Dr. Jacques L. Digbeu
Assistant Professor
Location:

Harvey Library

,

5th Floor, Language Lab
Phone:
757-728-6922
E-mail:
jacques.digbeu@hamptonu.edu
Jacques Lohourou Digbeu, Ph.D.
Dr. Jacques L. Digbeu is a graduate of the University of Limoges and the prestigious University Michel de Montaigne Bordeaux III Talence in France. He is the holder of a Master's Degree in German, a DEA (Degree of Advanced Studies in German) and a Ph. D. in German Studies. He is the author of the book Siegfried Kracauer et les grands Débats intellectuels de son Temps (Siegfried Kracauer and the main intellectual Debates of his Time), that was published in Germany in 2005. After teaching several years in France, Dr. Digbeu served as a German and French Professor in Baton Rouge, Louisiana, and is currently teaching at Hampton University.
E-mail: jacques.digbeu@hamptonu.edu