Directory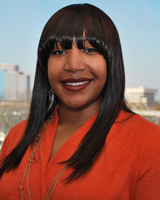 Dr. Idonia K. Barrett
Assistant Professor
Location:

Martin Luther King, Jr. Hall

,

210
Phone:
757-727-5733
E-mail:
idonia.barrett@hamptonu.edu
Expertise:
Corrections, Offender Reentry, Probation and Parole, Community Policing
A native of New Rochelle, New York and a graduate of Hampton University, Dr. Idonia K. Barrett is an Assistant Professor in the Department of Social Sciences teaching courses in Criminal Justice and Sociology. Dr. Barrett is interested in advancing the social conditions of the underserved and wanting to diminish the disparities of the injustices that occur within the criminal justice system. She has received recognition as "Favorite Professor" for the 2013-2014 academic year by the Student Support Services and nominated as "Female Faculty Member of the Year" from HBCU Digest for 2016. Dr. Barrett received her PhD in Human Services, with a concentration in Criminal Justice, from Walden University. The title of her dissertation was, "The Lived Experiences of Grandparents as Primary Caregiver for Children of Incarcerated Parents." In addition, she received her Master of Arts in Criminal Justice with a specialization in Criminal Law and Procedure from John Jay School of Criminal Justice in New York, NY. Her research interests are focused on the relationship between the community and police, the impact of incarceration on the family, and offender reintegration (returning citizens). Furthermore, Dr. Barrett is a part of various academic committees on campus and serves as the advisor for Alpha Kappa Delta International Sociology Honor Society (AKD), advisor for the Sociology Club, and creator and coordinator of the annual Art of Hip Hop Conference presented by the School of Liberal Arts and Education. All in all, Dr. Barrett looks to promote professional attitudes among the student body and serve the surrounding community and beyond in efforts to make positive changes in the lives of those in need.