Directory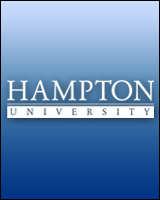 Dr. Genese Andrea' Lavalais
Director for Athletics Academics/ Life Skills
Location:

Holland Hall

,

153
Phone:
E-mail:
genese.lavalais@hamptonu.edu
Expertise:
Athletic Academics
Genese A. Lavalais joined the Hampton University staff in June 2019, as the Director for Athletics Academic Support/Life Skills. She previously served five years at Jackson State University as the Associate Athletic Director of Academics/Senior Woman Administrator.
Her responsibilities will include managing the Office of Academic Support Staff, monitoring the academic progress at HU, managing all aspects of the Life Skills Program and advisor for SAAC and Chi Alpha Sigma, Virginia Delta Chapter.
As the Associate Athletic Director, Academics/SWA, Lavalais' responsibilities included oversight of the athletic academic enhancement center servicing over 320 student-athletes. Her motto: "Empower students, grow champions, and develop leaders," confirms her dedication to the development of student-athletes through and beyond their matriculation. She and her team were responsible for encouraging students to be leaders. As such, for five straight years, the JSU Division of Athletics led the Southwestern Athletic Conference (SWAC) in academics and had several teams to be publically recognized by the NCAA for high APR performance. During her tenure, students earned a divisional GPA of 3.10 each year, 981 APR score, and had an 82% graduation rate.
In the absence of the Director of Athletics, Lavalais served as the liaison to the President's office managing the day-to-day operations of the department. During this time, she was charged with overseeing all aspects of the department to include, human resources for the department, budgets, travel, Title IX, game operations, and scheduling for competition.
Her motto is not only limited to student-athletes. Lavalais has a passion for developing and mentoring professionals. Her monthly "S.I.P. T.E.A." (Support, Inspire, Promote, Teamwork & Elevate Achievement) series proved to be a much-needed conversation among women in various departments at JSU. The monthly meeting promoted teamwork and collegiately and encouraged collaboration.
Lavalais served two years of a committee member for the NCAA Committee on Academics. She served on the NCAA Region 6 Post Graduate committee for five years, and as the chair of the Life Skills committee for the N4A. Lavalais was the 2014 recipient of the N4A Professional Promise award, reinforcing her position as a well-respected professional in athletics. Lavalais is hugely dedicated to the field of athletics, seeking every opportunity to improve her skills. Lavalais is an Alumni of the 2011 National Association of Academic Advisor for Athletics (N4A) Professional Development Institute (PDI), and an Alumni of the 2012 and 2013 NCAA Leadership Institute, and a 2014 Alumni of the Women Leaders Institute for Administrative Advancement East. She served as a faculty member for the inaugural 2017 N4A HBCU professional development institute. Lavalais is individually certified by the national body of N4A and spearheaded efforts of obtaining program certification for JSU AAEC through the N4A that is valid for ten years making JSU the first in the SWAC, second in MS, and third HBCU to receive the certification.
After a combined six years of volunteering, Lavalais began her career in athletics in 2010 at Alabama State University as an academic advisor. Lavalais volunteered as a Special Assistant to the Director of Athletics at Baton Rouge Community College (BRCC), an Athletic department intern at Louisiana State University (LSU), an Assistant high school girls' basketball coach at Marksville High School. From there, she went to Grambling State University, serving as the Coordinator of Academic Enhancement and the Director of Academic Enhancement.
The Marksville, La. native recently received a doctoral degree in Educational Administration with a concentration in Higher Education at Jackson State University. She was a member of the women's basketball team at Southern Arkansas University where she graduated in May 2004. She later pursued a Master's degree in Sports Administration at Grambling State University and graduated in December 2007, and is a member of Delta Sigma Theta Sorority, Inc. as well as numerous professional organizations.