Directory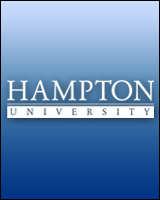 Dr. Ethlyn McQueen-Gibson
Associate Professor & Director, Gerontology Center for Excellence
Location:

William Freeman Hall

,

116
Phone:
757-727-5657
E-mail:
ethlyn.gibson@hamptonu.edu
Expertise:
Geriatrics, Diabetes, Cardiovascular Disease
Dr. McQueen-Gibson was appointed as associate professor in the School of Nursing and director for the Gerontology Center for Excellence that will focus on developing inter-professional health care providers to deliver care for older adults, developing community-based programs to address social determinants of health for older adults and lead community-engaged research with a focus on helping older adults live healthy lives.

Dr. McQueen-Gibson said, "The population of Virginians age 65 and older are expected to double between 2010 and 2030, almost one in five Virginians will be considered a senior citizen, according to statistics from the University of Virginia's Weldon Cooper Center for Public Service. Hampton University is uniquely placed to be a leader in Hampton Roads in working with providing community education for older adults and caregivers, working along with policymakers, leading research efforts and preparing future health care providers. I am very excited to begin this journey to help our older citizens live healthy lives and continue being productive citizens in the Commonwealth!"

Prior to assuming to the role at Hampton University, Dr. McQueen-Gibson spent two years at Virginia Commonwealth University as part of the Richmond Health & Wellness Program. In this role, she served as an advanced practice nurse and clinical researcher providing care for community-dwelling older adults in low-income apartment buildings in the inner city of Richmond. Her clinical research focuses on developing models of care for custodial African American grandmothers raising their grandchildren with a focus of addressing management of chronic disease. Her community-engaged research with fellow VCU team members has also addressed nutrition insecurity, social isolation and it's effect on older adults. Her clinical research focuses on developing community-based interventions for custodial African American grandmothers, ages 45-65, caring for their grandchildren under the age of 18, the effects of stress on management of chronic diseases of type 2 diabetes and cardiovascular disease.

She holds a Doctor of Nursing Practice degree from Ursuline College in Cleveland, OH, a Master of Science degree in Nursing from the Medical College of Georgia in Augusta, GA; and a Bachelor of Science degree in Nursing from Ursuline College in Cleveland, OH. She has practiced nursing for over 35 years to include clinical and administrative positions, and is a veteran having served as a commissioned officer in the U.S. Army Nurse Corps on active and reserve duty.