Directory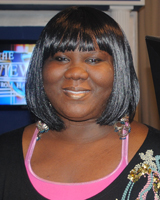 Ms. Eleanor Earl
Assistant Professor and Executive Producer/Director
Location:

Armstrong Hall

,

238
Phone:
757-727-5506
E-mail:
eleanor.earl@hamptonu.edu
Expertise:
English, Media, Communication, Film, Television
Eleanor Earl has been an Assistant Professor of English and Film Studies at Hampton University since 2003. She has served as the Film Studies Program Coordinator since 2007. In 2009 she received the E. L. Hamm, Sr. Distinguished Teaching Award. She teaches courses such as Screenwriting, Television Writing, Filmmaking 101, Introduction to Motion Pictures, Film Criticism, English Literature and Written Communication. Since 2010 Ms. Earl has been executive producer (along with President William R. Harvey), director, and co-host of a weekly television show, "The View from Hampton U," on COX-11 and COX-9( http://theviewfrom.hamptonu.edu ). She offers professional internships to students on the show, and also has facilitated many summer internships for students across disciplines, in the field of entertainment. Ms. Earl's personal relationships at companies such as Sander and Moses Productions, Disney, Focus Features, Universal Studios, 40 Acres & a Mule Filmworks, Karmaloop Tv, Lightyear Entertainment, Creative Minds in Cannes, Showtime, and many more, have assisted her in securing internships for many students every summer since she has been teaching at Hampton. She finds great fulfillment in "paying it forward" by assisting her students, just as her mentors did for her so many years ago.
Ms. Earl spent six years in Los Angeles, CA. During her stay she was an Adjunct Professor of Communication and Humanities at Pepperdine University in Malibu, CA, and established E. L. Earl Entertainment, a film, television, and music production company. As a writer, Ms. Earl has had staged readings of her plays and musicals at such venues as Her Majesty's Theatre and Covent Garden's Africa Centre in London. She performed her one-woman show, for which she wrote both text and music, at the Edinburgh Fringe Festival in Scotland. She was also a member of the Blacksmyths, a writing workshop at the Mark Taper Forum in L.A. As an actress, poet, and singer she has shared the stage with Carol Maillord of the internationally acclaimed singing group "Sweet Honey in the Rock," celebrated poet Amiri Baraka, and she was featured as a poet alongside Nikki Giovanni and Sonia Sanchez for the "Saturn Women 2 Women Tour" at the 20th Century Fox Studios in Los Angeles, CA.
Ms. Earl has composed and performed music for short films, been commissioned to write feature-length screenplays, and has been Festival Director for two film festivals. Currently, she is executive producer on the feature film adaptation of Dr. Van Whitfield's best-selling novel, "Something's Wrong With Your Scale" and several other independent film and television projects that are in various stages of development. Ms. Earl is also partnered with Shomi Patwary, in Illusive Media, a multimedia company (www.illusivemedia.com) which has produced music videos for MTV, VH-1, BET, and many other outlets. She also serves on the Board of Directors for Young Audiences of Virginia(www.yav.org ) and Alternative Intervention Models(www.alternativeinterventionmodels.org), based in Los Angeles, CA.
Ms. Earl took an M.F.A. in Theatre Writing with a specialization as a Bookwriter, Lyricist, Librettist from The Tisch School of the Arts at New York University. She also took an M.A. in Humanities with emphases in Communication, English Literature, and Theatre from Old Dominion University, with graduate credits in English Literature from a program held at Oxford University in Oxford, England. During her time in Oxford Ms. Earl studied the British Modern Drama and British Modern Fiction. Ms. Earl took a B.A. in Rhetoric and Communication Studies from The University of Virginia.