Directory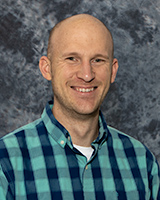 Mr. Christopher Daniel Kozak
Professor
Location:

Armstrong-Slater

,

102
Phone:
757-728-6813
E-mail:
christopher.kozak@hamptonu.edu
Expertise:
Fine Art, Painting, Graphic Design, Comic Book Art, Art History
A gregarious and enigmatic artist, Christopher Kozak has constantly strived to fulfill on what he sees as the arts greatest purpose; to bind communities together in the shared vocabulary of visual storytelling. Originally from Pittsburgh, Pennsylvania, Christopher attended Edinboro University of Pennsylvania to earn a BFA in Applied Media Arts / Animation. After working in multiple states in the mid-2000's, Christopher changed his life's course to turn towards a proud career in education. He received his NC and VA Secondary Educators License from East Carolina University, as well as his MA and MFA from Norfolk State University in Visual Studies.
Staying true to the original goal of using art as a universal communication tool, Christopher began to expand his skill set to include large scale community-based mural projects. He also found that his previous collection of experiences in Graphic Design and Character Design/Animation came in handy while designing the simplistic figurative styles that he utilized in his murals.
Currently, Christopher proudly educates up-and-coming students at Hampton University where he teaches courses on Painting, Animation, Game Design, and Graphic Design. He constantly encourages his students to explore a community outreach and business-minded/entrepreneurial spirit to their artistic creations. Professionally, Christopher has worked on numerous murals for the Hampton Roads area including the Naval Station Norfolk 100th Anniversary Installation in downtown Norfolk, VA. He has also exhibited artwork in multiple states and famous museums such as the MOCA, Virginia Museum of Contemporary Art and the Chrysler Fine Art Museum. Christopher also works as a professional Design consultant for local buisnesses in designing their buisness branding.
Christopher Kozak is an energetic and affable educator with a passion for fine arts as well as the commercial arts. He strives to achieve the best for his students; to always ensure that they leave the classroom with a heightened level of appreciation of the arts through merit, rigorous hard work, and enjoyable light-hearted projects.