Directory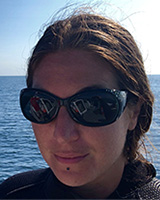 Dr. Cara C Schweitzer
Postdoctoral Research Fellow
Location:

Marine Science

,

122
Phone:
757-727-5912
E-mail:
cara.schweitzer@hamptonu.edu
Expertise:
Marine ecology and neuro-ethology
Dr. Cara Schweitzer is a marine ecologist whose research interest encompasses sensory and neuroethology, physiology, and conservation of marine fishes. Dr. Schweitzer's current research focuses on how temperature and exposure to elevated CO2 levels affect neurosensory functions, specifically the auditory brainstem response (ABR), of sciaenid fishes. To better understand how the auditory system is affected by environmental factors, Dr. Schweitzer uses ABRs, otolith morphology, and GABAA receptor antagonists. Dr. Schweitzer earned her PhD from the University of Maryland Eastern Shore researching habitat preferences and discard mortality of the black sea bass.
Faculty Advisor: Dr. Andrij Horodysky