Directory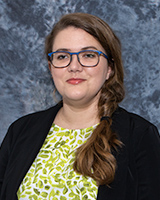 Dr. Catherine Lee Porter
Assistant Professor of History
Location:

Martin Luther King, Jr. Hall

,

207
Phone:
757-727-5872
E-mail:
catherine.porter@hamptonu.edu
Dr. Catherine L. Porter received her PhD in History from the University of Cambridge, where she was a Fulbright Scholar to the Democratic Republic of Congo. She is an Honors graduate of Virginia Commonwealth University, with dual bachelor's degree in History and International Studies. She earned two master's degrees in International Studies at the Graduate Institute of International and Development Studies and in Liberal Studies at the University of Pennsylvania. Prior to entering academia Dr. Porter worked in foreign policy in Geneva, Switzerland, with a focus on child soldiers and integration in conflict zones.
Dr. Porter is working on her first monograph, which is adapted from her doctoral dissertation and has begun a second project. This examines the rise of reoccurring secession movements on broader parallels and re-frames the question of what makes the nation. Her research interests, broadly speaking, include African History, the development of identity and nationalist movements, political thought in the decolonization period in Africa, secession movements, the Global Cold War, colonial social politics, and propaganda.